Pediatric Hand and Upper Extremity Care
---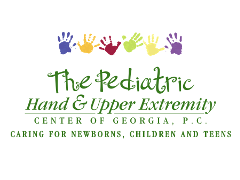 Have Your Child Treated By The Most Experienced Pediatric Hand Surgeons in Georgia
From infancy to teenage years, children's bodies are continuing to grow and develop. Throughout the hand and upper extremity, there can be congenital differences or injuries that impact that development. Our physicians are the most experienced pediatric hand surgeons in Georgia and trained at noted institutions, including Boston Children's Hospital, Shriners Hospitals for Children-Philadelphia, Massachusetts General Hospital, and Riley Hospital for Children.
Our unique expertise allows us to correctly recognize and treat injuries and disorders in young patients whose bones and joints are still growing. Many patients require only conservative, nonsurgical care. But when surgery is recommended, we excel at providing safe and appropriate surgical care. We perform over 1,000 hand and upper extremity surgeries each year on pediatric patients – more than any other hand surgery practice in the Southeast. We are the only surgeons in the Hand and Upper Extremity Program at Children's Healthcare of Atlanta (CHOA), we are the only hand surgeons at CHOA-Scottish Rite, and we partner with Scottish Rite to provide comprehensive pediatric surgical care.
At each visit, your child will be seen by a physician – not a nurse practitioner or physician's assistant. Therefore every decision about your child's care is made directly by your physician. And if surgery is required, that same physician will be the one performing your child's surgery and guiding treatment from start to finish.
Not only does our experience with pediatrics set us apart as physicians, but our entire office staff, including x-ray technicians and cast technicians, excel at making the care experience great for young patients and their families.
Sports Medicine/Traumatic Injuries
From tee-ball to high school all-stars, young athletes can injure themselves doing the sports they enjoy. Our physicians provide surgical and nonsurgical care for all types of sports injuries, including sprains, dislocations, and fractures. We also specialize in overuse injuries, such as Gymnast's wrist, Little League elbow, elbow ulnar collateral ligament injury ("Tommy John"), and osteochondritis dissecans (OCD) of the elbow.
Children of all ages can also sustain simple to complex traumatic injuries, including fractures (broken bones), dislocations, deep lacerations, burns, or tendon and nerve injuries. Our physicians care for any of these injuries that affect the hand, wrist, forearm, and elbow.
There are also times when injuries do not heal well or problems arise, such as physeal arrest (growth plate stops growing), fracture nonunion (broken bone does not heal), fracture malunion (broken bone heals crooked) or heterotopic ossification/contractures (joint stiffness). Our physicians provide expertise in managing these complex situations. If reconstructive surgery or revision surgery is necessary, let our team guide you through this process.
Congenital/Neuromuscular/Tumors
Dr. Loui Bayne, whose lifelong commitment to congenital differences of the hand and upper extremity continues today with each of our physicians, founded our practice and established our ongoing relationship with CHOA-Scottish Rite. We provide the entire spectrum of surgical and nonsurgical care for congenital conditions, such as extra digits (polydactyly), conjoined digits (syndactyly), crooked digits (clinodactyly, camptodactyly), enlarged digits (macrodactyly) and underdeveloped digits/wrists/arms (radial longitudinal deficiency, cleft hand, amniotic band syndrome, symbrachydactyly).
Our physicians also treat neuromuscular conditions such as cerebral palsy and arthrogryposis. We work closely with pediatric hand therapists and physical therapists, pediatric neurologists and physiatrists, and patient families to optimize surgical and nonsurgical care.
Most lumps or bumps in children are benign cysts or masses. Often times they resolve on their own, but some tumors can require surgery. We treat children with soft tissue tumors such as ganglion cysts, vascular malformations, neurofibromas/schwannomas, fibromas, and lipomas. We also treat bone and cartilage tumors, including enchondromas, osteochondromas, multiple hereditary exostoses (MHE), and bone cysts. We work collaboratively with other pediatric specialists at CHOA for any tumors that are cancerous or malignant. We can provide reconstructive surgical expertise, including free vascularized fibula graft and soft tissue transfer.
Brachial Plexus and Peripheral Nerve Injuries
Our physicians also specialize in the care of nerve injuries of the hand, wrist, elbow, arm, shoulder, and throughout the leg. While many of these injuries can recover with time and observation, it is important to have an expert evaluate these injuries and ensure that healing is occurring in an appropriate fashion.
There are times when immediate surgery is the best treatment for an injury and other times where surgery may be the answer only after adequate time has passed, but you do not want to miss the opportunity to make the appropriate treatment decision for your child. Let our experts help guide you through these injuries from start to finish.
Our physicians are experienced with microsurgical nerve repair, nerve grafting surgery, and nerve transfer surgery. They also perform other reconstructive surgeries, such as tendon transfer surgery.
Drs. Peljovich, Ratner, and Gillespie bring with them the experience of specialty training at Boston Children's Hospital and Shriners Hospital for Children-Philadelphia to the Brachial Plexus Program at Children's Healthcare of Atlanta. They are the only specially-trained surgeons in Georgia providing care to pediatric patients with brachial plexus injuries. These include infants with brachial plexus birth palsies as well as pediatric and adolescent patients who injure themselves playing sports or in ATV/car accidents.